And so it is the last day of my winter break. I spent mine basically resting, walking around and see the world with my mini viewfinder and talking lots and lots of pictures. ( Indeed it was a little too much of travelling. I couldn't even finish editing the pictures and posting them in a timely manner lol). During the trips I find myself feeling tired, my energy level drop really fast — even when I am on holiday and having a fairly sensible lifestyle and schedule, say 2 appointments a day or 2 places to visit per day when I travel, I can barely accomplish both. Despite a healthy adult body with no major sickness, I often find myself weighed down with constant fatigue. Ky and Ruth said it is a sign of ageing. I wonder anyone in the mid to late 20s feels the same?
UPDATE (AUG 11th 2014) : 
I also did a project which includes arranging a 2D1N itinerary to Busan in my recent post and of course I included Gamcheon Cultural Village in the itinerary as well. It is a 6 pages fully coloured Busan travel brochure, including 9 Must-sees and some tips for foodies. All info humbly gathered by me. ; ) Check it out here.
Anyway, I visited Gamcheon Cultural Village (감천 문화 마을) during my holiday in Busan. It wasn't that famous when I was there 5 years ago. Only until the recent 3-4 years it began to attract attention from the local press, filmmakers and photographers, and then the tourists began to flock in. I read an article from the local paper about the place some 3 years ago, been wanting to visit the place but always missed the chance. Since this was a free and easy trip back to Busan, I spared a day out for it — Good, fine 3 years. I am good at waiting!
KTX is usually my first choice for transportation from Seoul to Busan. It only takes about 2.5 hours to reach Busan by KTX. A big time saver compared to the usually 6++ hours road trip. Travelling during winter is a plus point as you get to see these breathtaking snow scenes along the journey.
Another pocket-friendly method to travel from Seoul to Busan without spending a penny is to hop onto the free shuttle bus made available for foreigners (and only foreigners). However, it has lesser bus frequency and definitely time-consuming. Not recommend if you are planning on a 2D1N trip or in short of time. However, you will be able to save up about KRW 140,000 (abt SGD 166) of KTX fares if you opt for free shuttle.
Famed as Korea's Santorini, this little village in Busan Gamcheon 2-dong has it's own artistic and historic charm that continues to lure its visitors. This village is originally called Taegukdo Village. Taegukdo is originally a religious community, or to be exact, a religion that was regarded as obscene during the political turmoil back in 1990s. Their members believe in the philosophy of Yin and Yang, and how the principle rules the universe. The Taeguk symbol has been one important factor in the Korean history — You can even see the symbol on the South Korean Flag today.
After the Korean war, this village was filled up with refugees and the followers of the Taegukdo Religion. They build houses along the steep hillsides, each houses watching over the sea, since then the village has pretty much preserved its appearance for decades.
Alighting from the Maeul-Bus (Buses that commutes within the community), you would find yourself surrounded by houses in a lovely pastel hues. A few hal-moni (old grandmas) carrying huge basket of vegetables, walking uphill with us then went into their own houses.
The long, long path, the mysterious ally that you won't know where it leads to….everything is surreal here. Even time travel slower here in the village.
Beware of the crossing alleys, it is impossible not to lose your directions here in the village. These alleys lead to at least 3 or 4 separate intersections. One wrong turn will make you go one whole round the village or having all uphill route instead of an easier downhill one. One tip is to follow the painted fishes that swim through the entire village. It brings you to the major or the more popular sites.
Continue walking until you reach the old hot spring building (only building with the huge hot spring signboard), one of the best places for a panoramic view of the village. Here you see colourful homes stacking up rows by rows just like coloured matchboxes. The blue rooftop seems to blend well with the pastel pink, yellow or even green facade of each home under the turquoise blue sky at the background. The magical moment came when the sun shines. Sunlight fall through the clear sky onto the colourful walls, bathed the surroundings with its shimmering shades of gold, truly photogenic!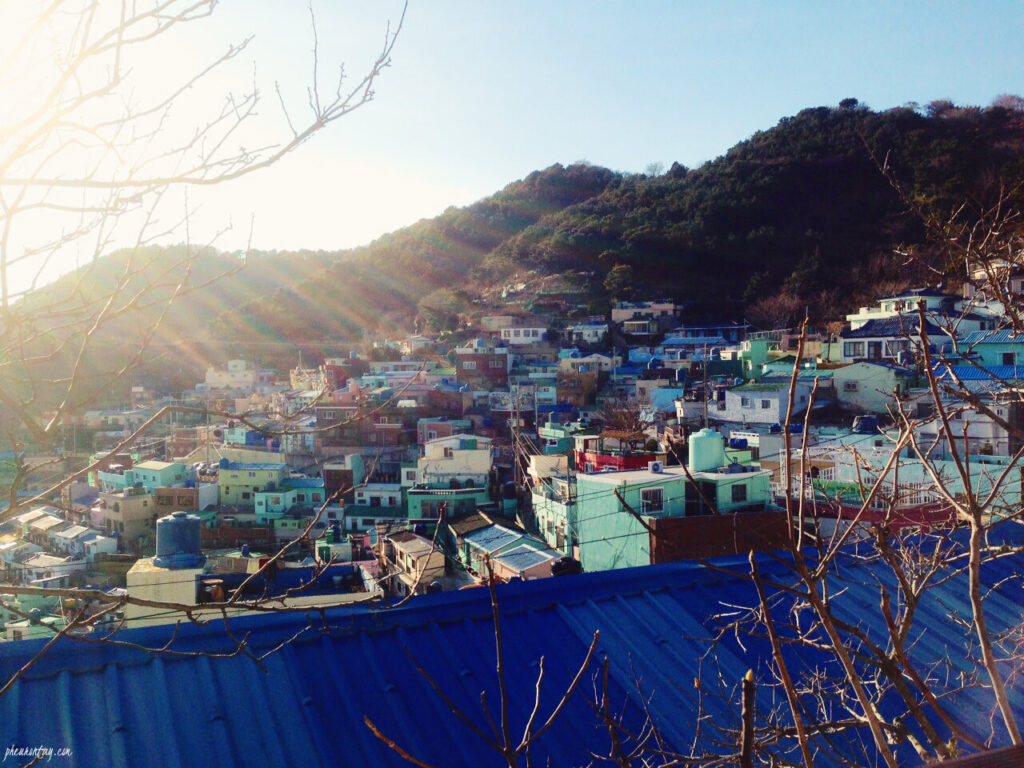 According to CNN's article, this village has it's unique and cleverly planned, multi-tiered communal layout thanks to Taegukdo teaching. By building the houses in tiers, no house blocks any house behind it, which adheres to the teaching of allowing others to prosper.
My Verdict: Not a fan of their individual arts display. I don't quite get it… maybe it is my backwardness in appreciating modern arts. However I do love the colourful surrounding and the quaint and mysterious atmosphere of the village. I would say it is a one-of-a-kind place in Busan due to its sharp contrast with the skyscrapers that stood along Haeundae beach and around Gwang-anli, also the hustle and bustle of the traditional markets. I love how the tiny green bus climb up the steep hills just like a time traveller. Boarding the bus finding yourself in a community of old folks is a different kind of experience. The humanity and artistic combination made the village stood in between the old and the new Busan. A refreshing getaway, I would say. Anticipate surprise at every turn here in the village : )
To the 1st Time Visitors:
Get a paid guide map at the community centre, which you can collect stamps around the village and exchange postcards at certain stations. The stamps are located at the more popular sites, so by collecting all 8 stamps means you have all the must-see covered. 
Another romantic way of reminding you the happiness in lalaland is to send out a postcard to yourself here at Gamcheon Cultural Village. Drop yours into the red postbox, which offers a slow mail service that the recipient will only receive the postcard approximately a year later after visiting the place.
To Prepare:
A good pair of walking shoes, be prepared to walk about 2-3 hrs at least if you want to complete the full beginner course. I finish mine in about 4 hours, including resting and taking endless pictures. Prepare sunblock in summer, moisturising balm in winter.
Directions:
There are various ways to visit the village. I took their subway from Busan Station to Toseong Station (Line 1) then get on to the community bus (Maeul bus 마을 버스). The bus goes directly to the destination, save you from transiting. A much simple route I would say.
1. Taking Busan MRT line No. 1 to Toseong Station 토성역.
2. Coming out from Toseong Station Exit 6, walk straight and turn right (route in teal colour). Take note of the small bus station board in front of the Pusan National University Hospital building (Block C, Cancer Centre, aka the PNU Cancer Centre)
3. Take the buses 1-1 or 2 or  2-2 (green bus) and the bus driver will announce when you reach Gamcheon Cultural Village.
[facebook_like_button]
[facebook_send_button]
[facebook_follow_button href="{$facebook_profile_url}"]
[facebook_embedded_post href="{$facebook_post_url}"]